Simpson Engines
Simpson & Co. has 60 years of experience in engine manufacturing. The company works with manufacturers in diverse areas such as Agricultural, Industrial, Power generation and Marine applications.

OEMs in these diverse areas prefer Simpsons' diesel engines predominantly for,

User-friendly design
Reliable manufacturing practices
Superior quality
Cost-effectiveness
Ease of access to parts & service
As the largest independent engine manufacturer, Simpson & Co has resources devoted for continuous development of diesel power systems and timely release for production to meet the market demands.
Product range


Proactive R&D and experienced team work on various development programmes to offer a comprehensive range of diesel engines with unmatched benefits :

Robust & Compact design
High Weight to Power Density
Good back up torque
Less operating costs
At Simpson, they listen carefully to customer's voice and requirements. Based on their criteria, they design and develop customised power solution for each application.
SC Series: 1 & 2 cylinder


SC Series is Simpsons' own design to give optimised performance and robust technology. This series caters to the small & compact equipment sector.


This is a unique series with a single-cylinder; electronically-governed engine mounted onto sub 20 hp tractors in India. This series is designed & developed to make this segment more organised.


Simpson & Co. is also the first corporation to commercialize the 2-cylinder turbocharged, intercooled engine. The company has the capability to meet EPA Tier-4 emission legislations governing up to 25 hp.


Power range of this series is between 8- 17 hp delivered through single and dual cylinders.
S Series: 2,3 & 4 cylinder
S Series was launched and being built for more than 60 years.

Simpson & Co. holds leadership position, spearheading this mid-range segment. These engines are prominent for their reliability and also for low cost maintenance.
S Series' trusted performance is an outcome of thousands of hours of validation with major OEMs. In this series, the 3-cylinder variant has a significant market share in Indian agricultural segment. Its 4-cylinder variant holds near-monopoly status in the Light Construction Material Handling segment in India.
Engines of this series come packed with power ranging from 20-60 hp offered through 2, 3 & 4 cylinder versions.


SJ Series: 3 & 4 cylinder


SJ Series was developed to adhere to EPA Tier-3 / Tier-4I emission legislation (without electronics). This series presents the dual benefit of observance to aforesaid norms through a cost-competitive method.
This series' engines are known for their durability through a marked improvement in the design and making of its critical components.
Its 4-cylinder, 3.6 litre engine developed with a power range of 75 hp is best-in-class with high power density, better back-up torque for more productivity, at lesser operating costs.
This series' power ranges from 45-80 hp.


SJV Series: 3 cylinder


SJV Series was developed to meet EPA Tier3 / EU stage3a emission legislation with mechanical fuel system and EPA Tier4f / EU stage III B with CRDI fuel system.
OEMs have the advantage to hold both versions in their equipment. The trails are identical and offer benefits to end-customers depending on emission standards to be met.
Power ranges from 55-65 hp in Tier3 and 45-75 hp in EPA Tier4 variants.


S440 Series : 4 cylinder


S440 series is made for durable and hence reliable performance.
This series sports naturally-aspirated and Turbo-charged intercooled adjuncts.
At present, there are EU stage2 grievances in some bhp nodes.
Improvements are on for BS-III CEV to meet the demand from India's industrial segment.
This series' reliable performance is evident through thousands of engines performing in Indian and global markets.
Power range is between 75 – 100.5 hp.
Current Manufacturing Range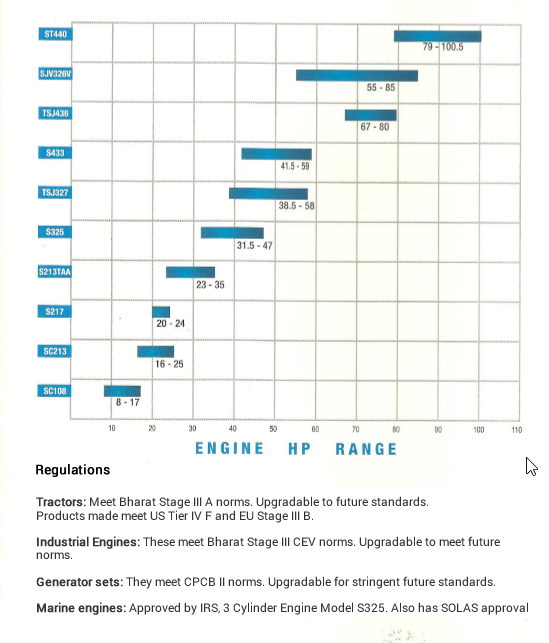 Engines - Contact Details

Marketing Division, Simpson & Co Ltd.,
861/862 Anna Salai,
Chennai 600 002

Tel: 044-28577244 / 28584918
E.mail: marketing@simpson.co.in

Branches and RO Contacts

Quick Product Finder
Product Catalogue
You can download brochure of all our products
Product Data Sheet
You can share your enquiry using this data sheet