Simpson Engines
Simpsons has 60 years of experience in engine manufacturing and has been working with equipment manufacturers in Agricultural, Industrial, Powergen, Marine segments.
Superior Quality, Reliability, Simplicity, User Friendly, Cost effective, Parts & Service Availability are major reasons why OEMs choose Simpsons Diesel Engine. As the largest independent engine manufacturer, Simpsons has extensive resources for continuous development of diesel power systems and timely release for production in-line with market demand and emission norms timelines.
Product range


Good R&D facility and experienced team work on development programme, allows us to offer comprehensive ranges of purpose-built diesel engines available today.
Benefits of Simpsons engines at a glance
Robust & Compact design
High Weight power Density
Good back up torque
Less product & operating costs
At Simpsons , our focus is customer centric delivering values to all stake holders. We listen carefully to customer voice and complete requirements are captured for any design & development. After detailed study through a structured process by an expertise team, we design, develop the "Total Power Solution" customising inlet / exhaust systems, back ends for straight fitment and mountings, integrating power take off solution, right selection of cooling and filtration accessories for robust , reliable and optimised solution. The package will undergo trials – self endurance, Installation checks, Field Trials before release into production for design sustainability. Simpsons has customised solutions for more than 200 applications and in fact it is the strength of the company.
SC Series: 1 & 2 cylinder


SC Series is Simpsons own design to give optimised performance and robust technology for the smaller, compact equipment sector. In this family, Single cylinder is the first electronic governed engine for sub 20 hp tractors in India, designed & developed for transformation of unorganised into organised segment. Also, Simpsons is the first company to commercialise 2 cylinder turbocharged intercooled version in the world which has got capability to meet EPA Tier4 emission legislation upto 25 hp. Power ranges from 8 to hp in single and two cylinder versions.
S Series: 2,3 & 4 cylinder
S Series is being built for more than 60 years and maintaining leadership in the mid -range as workhorse engines. . The engines have exceptional reliability and low cost of ownership. Their trusted performance is borne out of thousands of hours of validation with major OEMs. In these series, 3 cylinder enjoying significant market share in Indian Agricultural Segment and 4 cylinder enjoys monopoly status in Indian Light construction Material Handling Segment. Power ranges from 20-60 hp in 2,3 & 4 cylinder versions.
SJ Series: 3 & 4 cylinder


SJ Series was developed keeping in mind the cost effective solution to meet EPA Tier3 / Tier4I emission legislation without electronics. Added to this, these series designed to work for longer life by improved critical parts. Its 4 cylinder 3.6 litre engine developing 75 hp is best in class with high power density, better back up torque for more productivity and less operating cost. Power ranges from 45-80 hp.
SJV Series: 3 cylinder


SJV Series was developed keeping in mind the continuity of products to OEMs in developed markets as also to comply with stringent emission norms in future. This engine has got capability to meet EPA Tier3 / EU stage3a emission legislation with mechanical fuel system and EPA Tier4f / Eu stage III B with CRDI Fuel system. OEM will have an advantage to have both versions in their equipment as the foot prints are identical and can offer end customers depending upon emission requirement. Power ranges from 55-65 hp in Tier3 and 45-75 hp in EPA Tier4.
S440 Series : 4 cylinder


S440 series have exceptional reliability and longer durability. Available in naturally aspirated and Turbo charged Intercooled versions delivering 75-100.5 hp. Currently these are Eu stage2 complaint in some hp nodes and development Is going on for BSIII CEV for India's Industrial Segment. Their trusted performance is borne out of thousands of engines operating in India and Global markets.
Current Manufacturing Range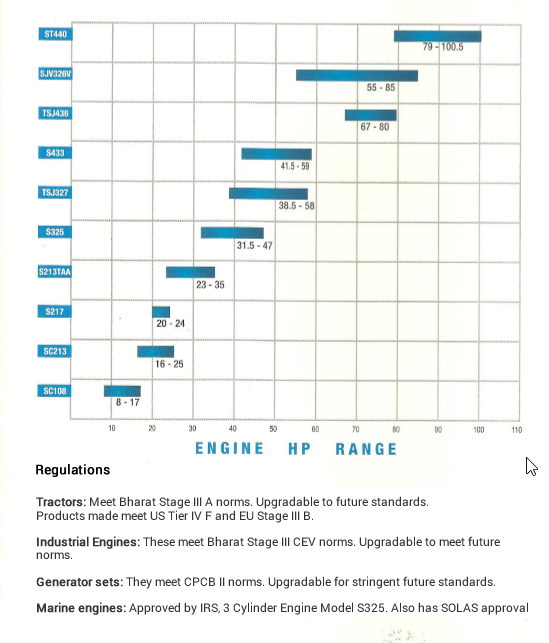 Engines - Contact Details

Marketing Division, Simpson & Co Ltd.,
861/862 Anna Salai,
Chennai 600 002

Tel: 044-28577244 / 28584918
E.mail: marketing@simpson.co.in

Branches and RO Contacts

Quick Product Finder
Product Catalogue
You can download brochure of all our products
Product Data Sheet
You can share your enquiry using this data sheet