Quality
From its inception, our Quality's main motto is to offer highly reliable products to the consumers resulting in customer delight as also ensuring repeated sales. This has been proven particularly in light commercial construction and material handling equipment where customers are demanding equipment powered by Simpsons engines. Simpsons quality is focusing on process control, inspection by integrated approach and effective supplier quality assurance programme. Towards this
Simpsons has
State-of-the-art inspection / testing facilities
Computerized Measuring Machines (CMM)
Effective Supplier Quality Assuarance Programs
Surface finish Analysers
Quality is the single most important parameter built-in at every stage at Simpsons and the accent is on value addition to provide our customers the highest standards at the most reasonable prices. Towards this, manufacturing facilities at all the three plants of the company are continually reviewed and upgraded.
Quality Circles and Competitive Work Culture introduced company wide are able to assess the company's present capability to ensure set quality goals are achieved.
Quality Policy
It is our policy to attain and maintain leadership in the market we serve by providing products and services which meet and exceed customer expectations and statutory and regulatory requirements with emphasis on continual improvement in all our processes and with total commitment and involvement of all employees.
Quality Management System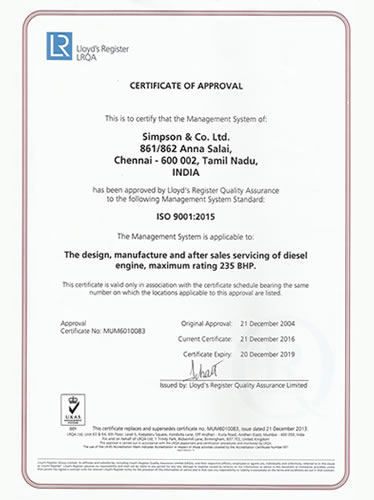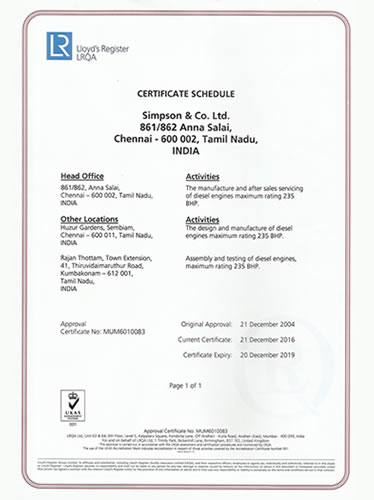 Environment Management System