Research & Development
As a pioneer in manufacturing diesel engines, Simpson & Company is abreast with latest Research & Development practices followed world over.
Simpsons has made significant contribution in reducing carbon print , providing green and clean energy by considerably reducing emissions without compromise on B10 life. The Common Rail engines developed in association with AVL meet Stringent EPA/CARB norms .
Its R&D centre is registered with Department of Scientific & Industrial Research (DSIR) Government of India.
The legacy wing of R&D consists of 7 test cells with modern measuring equipment namely
Gravimetric fuel flow, torque, speed, ultrasonic air flow and smoke measurement by opacity and reflection from a filter paper that draws a known mass of exhaust gases. In the cells, electronic emission meters for NO, NO2, CO and O2 measurements are used.
Air conditioned console room to ensure dust free ambience and protection for trouble free instrumentation.
Calculation of emissions is carried out as per ISO-8178 for power generation and tractor applications. An ingenious method is used to estimate particulates.
New Emission laboratory with AVL dynamometers high tech measuring instruments.
One of them is AC dynamometer to measure transients to test for newer emissions standards adhered outside India.
For study of engine behaviour, AVL indicating system and noise measurement equipment are available.
It uses Creo/Pro-E for 3-D modelling of engine parts and full assembly of engines. It is in the process of integrating Wind-chill with its ERP to harness the potential of 3-D models. It has ready-to-fit customised solutions, application wing for installation, commissioning and validation.
Common rail engines offered by Simpsons meet stringent emission norms for off high way application requirements of global markets and proposed emissions beyond year 2020 in India .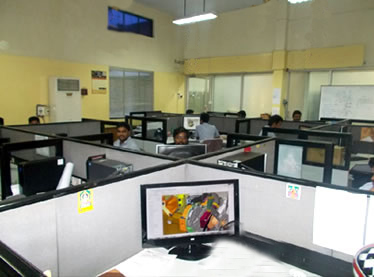 Design Department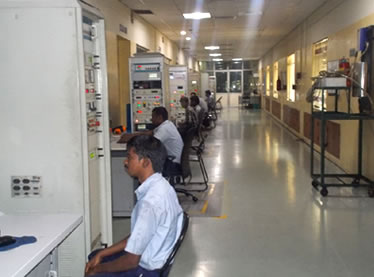 Engine Test Monitoring Cell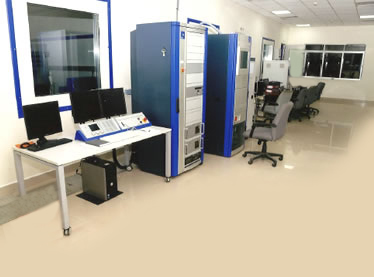 Emission Lab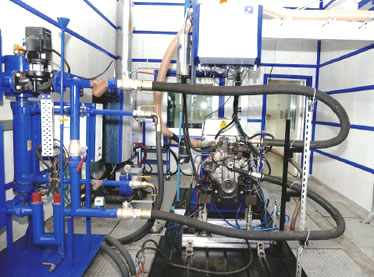 Emission Testing Cell